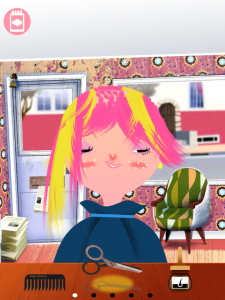 Last week I had what I thought was a winning therapy idea, when it didn't pan out I had to improvise.
Two of my kiddies are working on verbs and we'd been practising "cutting." I'm targeting /sn/ clusters ("snip!") with another child. I was inspired by some recycled packing materials to try a hair cutting activity.
I drew faces on paper and taped wavy, strings of cardboard packing stuff on for hair, it looked great. I handed a pair of children's scissors to the girl working on "snip" and she gave it a good go. But the scissors were too small and not sharp enough to cut the "hair" – oh dear. We started snipping other bits of paper, and then rapidly moved on to sticking things on to a picture of a "snail." For the two boys working on "cutting" it was Toca Hair Salon to the rescue – phew.
Therapy is all about improvising: therapy sessions rarely go exactly to plan. We can't follow a recipe, instead we spontaneously make communication opportunities from whatever is available, and teach parents to do the same.