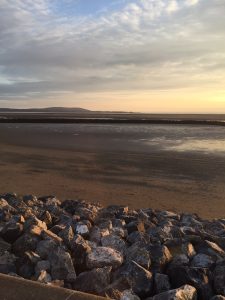 In February, I wrote about wanting to spend more time outside in nature, two weeks later my family and I went on holiday to Wales, and 2 months after that we moved here! We're now based in beautiful Llanelli, and feeling grateful, particularly for our daily walks along the coast.
I'm still seeing a small number of clients in London, on a fortnightly basis. I'm in the process of finding a therapy room in West Wales and excited about seeing clients here, too.
It's all a big change. I frequently remind myself of the quote: "the only thing constant is change" and try to embrace all the newness. I've been reflecting on transitions and how long change takes to feel 'normal.'
Our baby is now 10 months old and has been completely chilled throughout the whole move, he is a great conversation starter, making friends wherever we go. Obviously it's been more challenging for our 3 year old.
I reminded myself how supportive visuals can be for little people (and big ones!) We showed him photos of the new house, the removals van, and the train he'd be taking to Wales. He loves the beach and all the new parks. And during the difficult times I'm trying to implement the advice from a book I'm still reading: How To Talk So Little Kids Will Listen: A Survival Guide to Life with Children Ages 2-7 I don't want to use power over my son, the book has ideas for finding courses of action that work for everyone in the family.
People ask if we're settling in. Yes, I think so. We're happy to be here, although it still feels a bit like being on holiday. I wonder how long it will take to develop friendships, grow my first vegetable garden and feel comfortable saying: "ta ra." Who knows?!
When parents ask about how long the therapy process might take, "who knows?" is not what they want to hear! I try to reassure them by showing them all the changes their child is making, support them to keep practising, and encourage them to believe in the process, their child and their own skills.
I'm hoping a benefit of life in Wales will be more time to write, watch this space. And if you're a Speech Therapist anywhere nearby, and fancy getting together, please send me an email, I'd love to hear from you.