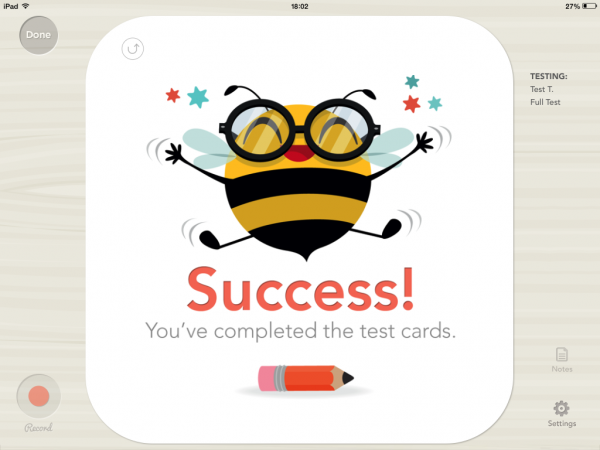 The team at Little Bee Speech kindly gave me their new Articulation Test Center to try out and review. I haven't used an app to assess a child before, so I was intrigued to see how it would go. 
I used the Test Center with a 4 and a half year old girl, who I know well. I watched the comprehensive video tutorial of how the app works before I began. Read this post on the Little Bee Speech Blog for a detailed description of how to use the app and all its features.
Useful features
I found it straight forward to get started and record how my client produced each word. She enjoyed completing the assessment, was keen to swipe on to the next picture and motivated to finish it in one sitting (which is not always the case with traditional, paper based assessments.) The prompt questions worked well to elicit words she didn't know and the clear photographs were easily recognisable.
When you're finished testing, the report the app produces is very detailed and I used parts of it in my clinical case notes. I really like how easy it is to compare a child's performance over time, and therefore monitor progress in therapy. It's wonderful to have everything you need in the one app so no schlepping of heavy test materials or hunting through papers to find past tests.
Feedback for the authors
My client and I both accidentally set off the voice prompt while swiping on to the next picture. And there are a few words that British young children are unlikely to know (for example 'skunk' and 'pretzel.') However, my worry with this app is the way that sounds are marked as incorrect – they are changed from green to red. Young children are amazingly switched on to this right / wrong distinction and I felt uncomfortable marking this so clearly for my client to see. As she is beginning to read, she was confused when I dragged her error sound on to the word in place of the correct sound. 
I wonder if there's a way to make this scoring more subtle. Would it be feasible to pair an iPad and iPhone, and have the pictures on the iPad and the scoring on the iPhone? If you have any clever ways of scoring this type of assessment discretely, please let me know!
Overall I was impressed by this app, it would be a useful addition to a speech and language therapy toolkit, and from Tuesday 12th August until Thursday 14th August it's on sale, at 30% off (details on the Little Bee Speech Facebook page.)