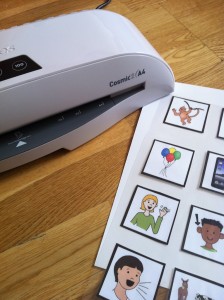 When I started my independent practice I needed the equipment to make visual resources (picture cards for speech sound work, verb pictures for posting and fishing, and colouring sheets to target comprehension.) I researched the symbol writing software I'd used in the NHS; I found it wouldn't work on my Apple iMac and it cost £100. It was time to look at the alternatives.
I came across LessonPix, it's an online product, there's no software to install or CD to lose, and I can use it on any computer that has an internet connection. The cost is $36 (USD) per year for an individual subscription, which converted to £22.62 when I paid online with my credit card. It's less than £2 a month, and as there's no CD to receive by post you can get started straight away.
I've used this resource every week since I bought it, and I recently renewed my subscription for a second year. I've made all the usual things, such as symbols for visual timetables using the picture cards template. I've also tried out new materials, my clients have enjoyed the games like dominos and board games. I even made a bingo game with s cluster words for a client's birthday!
To make a resource you simply search for the pictures you want to use and drag each one into your "tray." You then choose what materials (picture cards, now and next board etc) you want to make, and the site produces a PDF. You can save your trays to easily make different resources with the same pictures later on. As the finished resource is a PDF you can print it from any computer, you don't need to be signed into the site. I store all my resources in Dropbox, so if I forget to print them, I can always pull them up during sessions on my iPad.
It is so quick to use that it's easy to personalise the resources for each child, simply putting their name in the title is a detail they appreciate. You can upload your own pictures and photos to the site and then use them to make resources in the same way. If you're using words with the pictures, you can replace any of the existing labels with your own words – which means the USA / UK English differences aren't a problem; just search for 'faucet,' choose which picture of a 'tap' you want, and change the label!
The only thing I'd advise you to watch out for is getting signed out of the site. If I sign in and start filling my tray to build a resource, then get distracted and come back later, the site sometimes automatically signs me out. If I don't notice I've been signed out and finish making the resource, and produce the PDF (when I'm not signed in) the PDF has large watermarks on it and I have to re-do it.
The service was designed and built by Lori and Bill Binko, a husband and wife team in Florida. Bill is an active Twitter user, where he responds to therapists' queries and lets people know about special offers. It appeals to me that they promote their service by providing useful information and responding to feedback. The gorgeous pictures of Florida sunshine (on Twitter) can be hard to take during winter here in London though! The site has a friendly feel, for example, if you can't find the picture you need, simply click 'request an image' and let them know what you think is missing.
I wasn't asked to write about LessonPix, (I paid for both of my annual subscriptions) I'm choosing to spread the word about a product I find useful. My subscription to LessonPix has met my needs; I can produce engaging, personalised, visual materials quickly and easily. It's so affordable and easy to use that I feel happy recommending it to parents. Check it out!