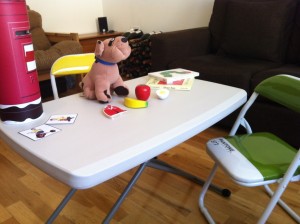 When I caught up with my former NHS colleagues recently, they asked me how my independent practice was going. I commented that I'd never seen children make as much progress. We started unpicking possible reasons for this rapid progress, was it that:
I see the children once a week on an ongoing basis? Or
The parents are particularly engaged because they're paying for the service? Or
I'm able to tailor therapy to a child's particular needs? Or
A combination of all three factors? Something else entirely?
I had a think.
The role of parents
The parents I work with take an active role in the therapy process, however, when I worked in the NHS this was also the case – so it can't be that simple. I think timing may be a factor: parents contact me when they're ready for therapy. In the NHS they might have to wait 6 months for a block of therapy, which comes at a time that doesn't suit them (moving house, one parent away on an extended business trip, death in the family etc.) Parents then look like they're struggling to engage with the therapy process, when the sessions have just come at an inconvenient time.
A friend suggested that parents who access NHS therapy are often engaged at the beginning of the process but become increasingly frustrated with the lack of flexibility they're offered. I've seen the opposite happen in independent practice: parents engage with the service, they then see progress, and this reinforces their work and commitment. They feel ownership of the therapy process and continue to work hard at home, which means more progress and more reinforcement, and they continue to stay engaged with the process.
The flexibility to be client centred
Seeing the children on a weekly basis must have an impact on progress, however, I think my flexibility to provide them with exactly the type of therapy they need is more important. I'm not restricted to offering blocks of 6 sessions and then a long "consolidation" period, I can get to know the children and their families and they can get to know me. I'm not limited to seeing the children in groups containing a wide range of abilities and I'm not restricted in the type of therapy I can offer depending on the child's diagnosis or the care pathway they end up on. I've spent a whole therapy session negotiating with a child and his mother how and when they'll practise at home. I'd have struggled to justify this type of session in the NHS, but without it we weren't going to get anywhere.
What motivates a therapist?
My motivation has changed since I began working independently; I still want to support children to develop their communication skills for the best start in life, I now also need to maintain my business to make a living. As most of my clients find me by personal recommendation from existing clients, I need to provide a quality service that meets their needs. In contrast, in the NHS I was judged on my ability to meet targets, such as waiting times for initial assessments. This can lead to situations that don't make sense to families or support progress, such as being invited to an appointment two days before Christmas, so a therapist meets her target.
How stressed is your therapist?
Finally, I wonder about the contribution of therapists' stress levels on progress. Being my own boss has significantly reduced my stress levels, I'm excited about therapy again. I'm now able to bring my whole brain to work, I feel confident to try new therapy approaches and I notice subtle details that perhaps I missed when my workload was out of control. Could these little details account for some of the progress I've been seeing?
Have I missed out a key factor? Therapists, what have you found supports progress? Parents, what did you notice about a time your child made speedy progress?