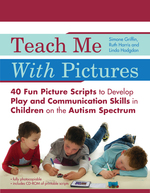 A friend has published a practical resource for developing play and communication skills in children on the Autism Spectrum. Ruth Harris, along with two colleagues, has written Teach Me with Pictures. It's a book of picture scripts that are ready to use – you can photocopy them or print them from a CD-ROM. Ruth has been working on the book for a while; she spoke about it at the initial Therapy Ideas Live event back in July 2011. Congratulations Ruth, Simone and Linda, it's wonderful!
The book begins with an introductory chapter, explaining what picture scripts are, their benefits and how to use them.
So what are picture scripts?
You know the picture instructions that come with flat-pack furniture from places like Ikea? They're picture scripts. You follow the pictures step-by-step, breaking up a complex task into manageable pieces.
Next the book explains why picture scripts work so well for children with Autism. Get the book and read this chapter, it's insightful, easy to follow and will help you explain the approach to parents and teachers. Many children with Autism are visual learners, who respond well to predictable and achievable activities – picture scripts are perfect. After discussing the skills picture scripts can promote, the book describes in detail how to use the scripts, so you're ready to get started.
What activities do the scripts target?
The 40 picture scripts are divided into categories:
Pretend play
Drawing pictures
Building and construction games
Cooking
Arts and Crafts
Everyday living
You can see an example of some of the scripts on the publisher's blog. I can't wait to try making sandwiches and drawing monsters in therapy, I think the kids will love it!
This book could be used by SLTs, teachers, parents and anyone supporting children with language, learning or social communication difficulties. The activities have been designed to reflect what typically developing children of around 6 years old do, so we can teach our clients the skills they need to take part in the same activities as their peers. That said, a couple of the scripts are a little American, making nachos and ice-cream soda? Still, a good communication opportunity – talk about cultural differences!
This book is an inspiring starting point, use these scripts and then make your own. What does your client or child need to learn how to do? Write your own script and help teach them!