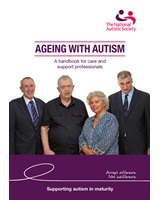 On Wednesday evening I attended the National Autistic Society's Ageing and Autism launch event. Francesca Happé talked about the huge gaps in the research, and outlined the things we don't know about what happens when people with autism age. As autism was first used as a diagnostic label in 1943, the children diagnosed then are now approaching their 60s and 70s.
Saskia Baron's brother Timothy, was one of these children. In 1961 he was diagnosed with "Childhood Psychosis" which later became known as Autism Spectrum Disorder. He is now 57 years old. Saskia talked movingly about growing up with a sibling with autism, and her worries about Timothy's future. She described how difficult it is for Timothy to let people know when he is unhappy or in pain. More positively, she talked about how she's observed that Timothy is still able to learn new skills. Saskia agrees that early intervention is important, however, she feels it's not justified to remove therapeutic resources in late childhood or early adulthood, as the door to learning is still open.
My clients with autism are between 3 and 6 years old, they'll be approaching old age in 60 years! Saskia's presentation made me think about two things, how can I support the siblings of my clients? And how can I teach my clients ways to express their pain?
This week I also had a wonderful conversation with Keena Cummins. I'm using her VERVE technique with several families and was thinking about how to manage parents' expectations. All the children have been making great progress due to the efforts of their skilled and perceptive parents, yet these parents often express frustration that their children aren't using more words. Keena suggested I'm clear about what I want parents to focus on:
 "During these therapy sessions I want you to focus on his playing, I'll worry about his talking. I want you to think about how you're supporting him to play, explore the toys, and try out his ideas. We'll be thinking about his words later."
This makes sense to me, I'll try it out this week.