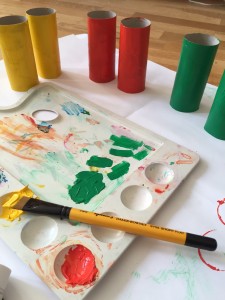 One of my goals for 2016 is to make as many therapy resources as possible. I'm trying to spend more time rummaging through the recycling box and less time browsing on Amazon. I want to keep my clients interested, so I need a variety of materials. However, I don't want to send the message to parents that the way to keep things interesting is by buying more and more toys. I hope to do some of the crafts as part of the therapy sessions, but this one I made myself, at home.
Toilet roll Octopuses
There are lots of "tutorials" online for this project, it's really simple. I choose it because I'd collected LOTS of toilet rolls and because one of my clients is interested in facial expressions and another, sea creatures.
Here are my finished octopuses!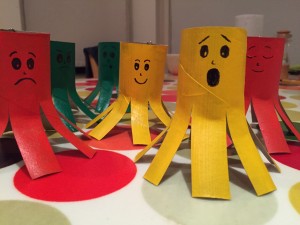 I enjoyed getting out my paints and making these. I put a paperclip on each one and we caught them with a magnetic fishing rod. The kids loved them. I'm not sure how sturdy they are, but they all currently still have 8 legs attached, so fingers crossed.