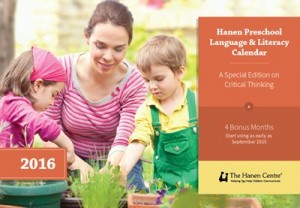 I've been meaning to write about the 2016 Hanen Preschool Language and Literacy Calendar for several months, but the days and weeks fly by in a blur and it's almost the end of the year. If you want to help your child (clients or pupils) to develop creative solutions to problems but your days are already full, and it's hard to find the time, this resource might help.
The 2016 calendar focuses on critical thinking. Each month describes a different strategy, with an academic reference if you'd like more detail. Then there are four tips for parents and four tips for educators, divided into play types: Daily Activities, Pretend Play, Book reading, On the Go. The tips are really specific ("while washing hands together…") So you don't need to try and work out when you could practise them.
The calendar encourages parents and educators to notice what their children are naturally curious about. And to verbalise their own thinking: "I'm wondering why those big birds stay together in a group instead of travelling alone." Or start the interaction by offering their own opinion followed by an explanation. Adults are reminded to introduce new vocabulary when it's relevant, for example 'float' and 'sink' at bath time. And of how non-fiction books can be used to practise discussing similarities and differences.
The calendar is clear, easy to read and visually appealing. My one concern is the focus on asking questions. If people aren't familiar with the Hanen Centre's more general advice on avoiding asking too many questions, the activities recommended could become rather adult led and feel like a test, to the children.
I think the advice in this calendar is best suited for use with children aged between 3 and 8 years old. Critical thinking is a crucial skill, if you're interested in supporting children to develop it, consider this resource (even if you no longer use a paper based calendar!)
The Hanen Centre kindly sent me a copy of the calendar to review, and a couple to give away, I'll be bringing them to the next Therapy Ideas Live event.