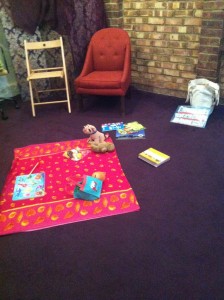 I don't have space to see clients at my flat. I needed to decide if I'd go and visit people, or rent a therapy room and have clients come to me. When I calculated how much time I'd spend travelling from family to family, I realised I'd only be able to see 4 or 5 clients in a day. It made more sense for me to rent a room, I'm able to book in between 6 and 8 clients a day.
There are of course advantages to seeing clients in their own home or educational setting. There are also advantages to seeing people in a distraction free, neutral space where both children and their parents can focus on the therapy session.
I work part time, so I looked for rooms I could rent by the hour or day. I've used 5 different therapy rooms and learnt what's important to me, here are some things to consider.
Where is the room?
I look for somewhere close to public transport. One of my current rooms has a car park which is a bonus. Families have also commented that they enjoying coming somewhere close to cafes and shops. I decided not to work from one practice that looked gorgeous during the day, but felt isolated at night, I didn't think I'd feel safe.
Is it accessible?
Think about the access. If you work with pre-schoolers like I do, they may arrive in pushchairs. My first therapy room was up 3 flights of stairs. They may also be in the process of toilet training, how far away is the toilet?!
Is there space for your clients to wait if they arrive early? Are there any resources you can borrow, such as child sized furniture or musical instruments? Is the room suitably furnished, or will you need to remove fragile things before getting started each day? How often is it cleaned? Is there any storage you can use?
What are the rental terms?
The places I've worked from have varied hugely in terms of the admin, and payment terms. Two places required me to sign a contract, provide my insurance information, and give notice if I wanted to stop using the room. Others have been more flexible. When I was gradually returning to work after maternity leave, I chose a room I could book on an ad hoc basis to minimise the risk of paying for a room I wasn't using. Then when it wasn't available on the days I needed, I found a room where I book 6 sessions at a time, but don't need to sign a contract. I was surprised that when I asked for a discount, one place was happy to give me one.
What's not essential but nice to have?
I like the idea of having access to a kitchen, but in 18 months I've only made myself 1 cup of tea! I do use the sink to fill and empty buckets for water play though. I thought wireless internet access would be useful, but on the rare occasions I've needed my iPad online, I've tethered it to my phone.
Referrals and other benefits
It might be worth thinking about what other businesses or services work at any location you're considering, as they may be able to refer people to you. Some venues offer other incentives: when I rented a room in a wellness centre, I was considered a "teacher" and could go to yoga classes for £1!
Each time I need to look for a new therapy room I feel overwhelmed, something always comes up though! If you have questions about finding a therapy room leave a comment or email me.
This post is part of a series, I wrote about how I advertise my service and how clients contact me in previous posts. Coming next pricing, billing and all things money.