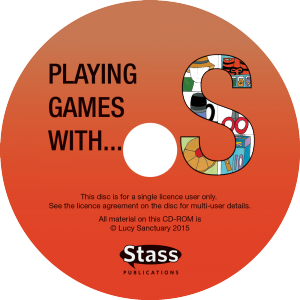 Lucy Sanctuary kindly sent me a copy of her book: Play Games With S, to review here. It's a resource that contains 15 games to help children generalise the 's' sound from single words in therapy sessions, to their everyday conversations.
Lucy states in the introduction that "the resource is for children who have had speech therapy to say the speech sound 's' but are not yet using it in their everyday talking." It was designed for children aged five to ten years old. It's helpful that she is so clear about the intended audience.
I haven't had the chance to try the games with any children or families yet, as I don't currently have anyone on my caseload working on the 's' sound! What really appeals to me about this resource is that it stands alone; Lucy describes exactly how to play each game, I wouldn't need to "translate" anything for the families. If I was confident a child could produce 's' accurately at word level, I could suggest parents and school staff buy a copy of Play Games with S and give them responsibility for supporting the generalisation phase. I've realised that I sometimes don't explain speech sound homework very clearly to parents, and they end up practising something else entirely for a whole a week! I think this would be avoided with this resource.
The colourful hand drawn pictures are lovely and I think they'll appeal to children. Lucy talks about ideas for prompting children while playing the games and includes a rating scale to encourage children to monitor their own production. The games include lots of "classics" so adults will have some awareness of how to play them. I enjoy a memory game, so I'd probably start with Pairs.
I have two pieces of feedback. I wonder if there is a way of updating Happy Families to make it more inclusive and less heteronormative. And the book comes with a CD-ROM, although we have more computers than people in our house, we don't have any that read CD-ROMs! I guess there are a lot of challenges with putting the picture resources online or providing a one time downloadable PDF, but as I can't use the CD-ROM I'm back to scanning in the pictures.
I think this resource would be really useful to encourage the key people in a child's life to take on the generalisation phase of speech work. And working through this book would give teaching assistants skills they could use to work on other sounds with other children.