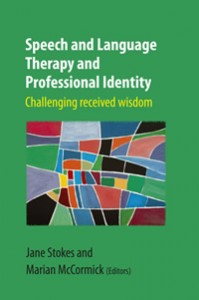 In the conclusion to their book, Jane Stokes and Marian McCormick wrote that they hope it makes you think "Hmmm…" – it certainly does.
As Jane and Marion designed the curriculum for a new postgraduate course in speech and language therapy they collected stories, and then wrote this book to add to the conversation about issues that underlie the SLT profession. The book has 10 chapters, 5 written by Jane and Marian, and 5 contributed by other people. It raises challenging questions and explicitly invites the reader to examine their professional beliefs.
There are a number of chapters I'm looking forward to re-reading and think I'll review regularly. Marian's chapter about reflective practice inspired me, and reminded me that one outcome of reflection needs to be a goal for the future. Aoife Gallagher's chapter "To intervene or not to intervene" had me nodding with agreement. I've been considering the role of parental expectations, fear and anxieties in my own clinical work so was interested to read Aoife's ideas about how to make services transparent and responsive.
In her chapter about supervision Jane introduces models from related fields, that we in speech and language therapy can learn from. Keena Cummins' chapter on using video clarified issues I'd been struggling with in my therapy sessions. Her analysis of the value of face watching and mirroring between adults made me reflect on some recent interactions with parents. I hadn't considered the link between spirituality and speech and language therapy. I enjoyed Sophie MacKenzie's chapter on this topic, which discussed the narratives clients use at different points in the therapeutic journey and person-centred care.
I was scribbling down thoughts and questions as I read this book and enjoyed how it encouraged me to consider why I do what I do. If you're a therapist who enjoys asking why and getting stuck in to some interesting discussions, I think you'll enjoy this book. 
The book includes quote from students of Jane and Marian's course, I was stunned by how insightful they were. If you're looking to hire a new grad keep your eye out for therapists from the University of Greenwich!