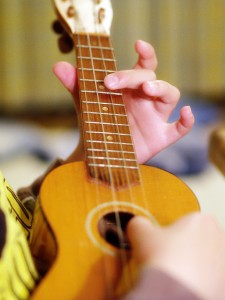 I recently attended a workshop at The Music House for Children on introducing musical learning to children with Autism. I was energised and inspired by the session and left with several practical ideas I'm keen to try out. The workshop was led by Kirsty Keogh, it was refreshing to hear from a professional outside of speech therapy. Kirsty is experienced at working with children and young people with Autism, I could see from the videos examples how well the children responded to her.
She shared lots of practical ideas about how to use music with groups of children and during individual sessions. I'm going to try the "Island approach" – different instruments are laid out on around 6 mats on the floor. The instruments on the mats stay the same each week, except for those on one mat which change to introduce new instruments. The child chooses which instrument to explore, and then the adult joins them. It looked similar to Intensive Interaction, following the child's lead and gently extending.
Kirsty suggested that when the child chooses an instrument or is given one, we give them time and space to explore it, by initially not doing anything ourselves. This made so much sense to me, but I realised I tend to jump in and start modelling how things work. I'm going to try waiting! I'm also going to try the way Kirsty suggested to get children to stop playing. A big, loud, dramatic buildup encourages stopping more than quietly trailing off. Starting slowly and softly can help some children with Autism access music, and low pitched instruments are easier for some children to tolerate.
Kirsty suggested we think beyond nursery rhymes, to songs with different rhythms, in different keys. She showed us how a song like Ipi N'tombi can be used as a call and response to encourage vocalisation. It's impossible to sit still during this song!
Kirsty also shared some resources. Some of my clients would love this vibration speaker, which makes the sound vibrate from any hard surface you place it on! And Kirsty said it's pretty robust. Drums for Schools have good value percussion instruments. And A Little Birdsong, has songs and ideas for pre-school children.
I played a lot of music as a child and teenager, and I'd love to play more now. I'm going to learn some simple tunes on the piano, and perhaps try and take some Ukulele lessons! They're inexpensive, portable and sturdy – a winner!
Photo by Tam Tam