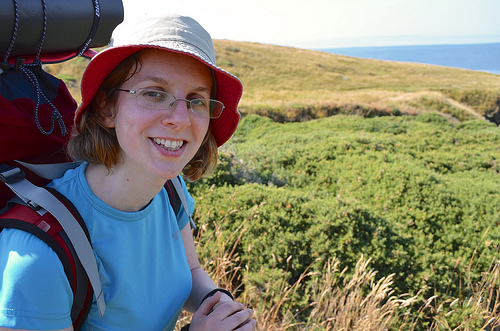 I spent last week hiking 50 miles along the Pembrokeshire coast path. It was beautiful, stinking hot and a trip I'll remember for years. The hours of walking gave me time to think, and I realised a long distance walk is a good metaphor for the therapy process.
A long journey
50 miles over five days sounded straightforward when I was planning the route. Factor in a heavy backpack, rough terrain and a freak heatwave and those miles were long. The therapy process can be long too. Children may need to develop skills in several areas, they may learn quickly and then take time to generalise, or it may take time to find a therapy approach that works.
It's challenging and there'll be tough parts
The walk seemed hardest when it was steep and hot, then suddenly easier when the path flattened off and the sea breeze began to blow. Therapy has easier and tougher parts too. At times something clicks and children suddenly get it, at other times no one is in the mood. There may be frustrations and times when we want to give up. We need to keep going and wait for the sea breeze.
Repetition makes it easier
We bought a new tent for this trip: the first time we put it up, it took about 40 minutes! The second time was faster and by the sixth night we had it down to an art. Therapy get easier too. Families get used to practising at home and find creative ways of integrating activities into each day. Children get used to how therapy sessions work, they get to know the therapist and what to expect.
Celebrate all progress
When we got to the top of a steep climb, we'd take our backpacks off and celebrate with snacks and water! It's important to notice and celebrate progress in therapy too, however small. Remember how far we've come.
People may not understand
Some people we passed on the trail looked at us like we were crazy, one man even suggested we take the bus! When I was struggling, the strange looks people gave me made me feel lonely and the walking seem harder. I ignored people's judgements and kept going. Sometimes friends and family may not understand why a child needs therapy or how the process works. Families tell me this lack of support can seem hurtful, and is one more thing to worry about. Tell friends and family how they can help you, and then keep doing what you need to do.
If you commit it's worthwhile
I was determined to finish the walk. I had to be flexible and adapt my plan. Due to the extreme heat we took a shortcut one day, but we made it! When families can commit to therapy, and work with a therapist they trust, children make progress. All the hard work pays off when a child is able to express themselves, make relationships and blossom!